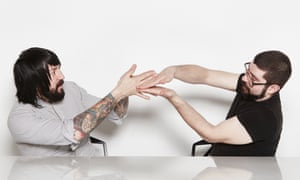 (Last Gang Records)
Is it too soon to fetishise the noughties? Toronto's
MSTRKRFT
– aka Jesse F Keeler from Death From Above 1979 and cohort Al-P – return after five years' absence with a blast from the not-too-distant past.
Operator
harks back to a time when aggressive dance music didn't just mean EDM. Analogue equipment and some rockist dynamics – a little redolent of
Justice
here, a nod to
Chemical Brothers
there – invigorate this busy, anachronistic record. Ultimately, the harder, almost techno-inclined instrumental tracks, such as Little Red Hen or Death in the Gulf Stream, are infinitely better than those burdened with vocals, some lairy and crass, some merely unengaging.
Continue reading...
by Kitty Empire via Electronic music | The Guardian